Welcome to Brunel Nursery School
Brunel Nursery School - Our Mission Statement
We aim to provide a positive learning experience in a safe and respectful environment. We strive to teach an inspiring and inclusive curriculum that promotes a love of learning. We want our children to be cheerful and independent individuals, who reach their potential and are proud of their achievements.
Our motto: Learning Together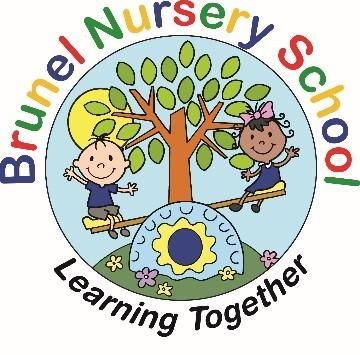 Welcome to Brunel Nursery School where our children attend either morning or afternoon sessions in our wonderful, well-resourced Early Years Learning environment!
My name is Mrs Rowe and I am the Nursery Manager and Teacher. Mrs Molyneux is our part time Nursery Teacher. Working with us is our very experienced Early Years practitioner, Mrs Hammond.
At Brunel Nursery your child will have either myself or Mrs Hammond as their special Key Person, and we know that this really helps children to settle in and feel safe and to then confidently explore and develop in their learning with us.
We believe learning should be fun and fantastic and know that our nursery children develop best in their learning, by playing with, and experiencing things first-hand. Every day we plan and provide exciting 'learning through play' activities, both indoors and outdoors, and we help your child to engage in all areas of the 'Early Years Foundation Stage' curriculum.
Each day Brunel Nursery children also enjoy a healthy 'Snack and Chat' time and adult-led focus activities to practice and develop their planned 'learning threads' progressively through the year.
At the beginning of their nursery session after a welcome and settling time your child will be encouraged to join us for a fun 'Move Your Muscles' music and movement time and to then sit with us to be introduced to the story or activities for the day.
At the end of their nursery session, we encourage all children to join in with an All Together Tidy Up Time and to then settle down with us to enjoy a short story, nursery rhyme or 'Talk-About' time, followed by stickers and Home Time.
Brunel Nursery school is federated with St Matthew's C of E Primary School and we enjoy sharing special events and visitors with our friends in the Robins' Reception class. Many Brunel children go on to join St Matthew's Reception class at the end of their time in the Nursery and, throughout the summer term our children have the opportunity to spend time in the Robins' classroom with the lovely teachers there. We find this really helps them to look forward to 'Big School' and prepares them for this key transition!
We sincerely look forward to welcoming you, and your child to Brunel Nursery as you begin your Nursery Early Learning Journey with us!
Mrs Rowe,
Nursery Manager and Early Years Phase Leader.
Welcome to Brunel Nursery School
Come and meet the teachers at brilliant Brunel Nursery School and have a look around our fantastic nursery setting.
Some help with learning at home
Have a look at these online resources!
Oxford Owl online picture and story books.
Ragdolly Annas, Music and Rhyme.
PhonicsPlay: the children can have fun practising the Phase One phonics awareness of sounds and rhymes we have been doing at nursery.
https://www.phonicsplay.co.uk/
username: march20
password: home
Alphablocks: lots of games and activities here to introduce letter sounds and some early 'reading' and 'writing'skills.
https://www.bbc.co.uk/cbeebies/shows/alphablocks
Twinkl: lots of printable activities and colouring sheets.
https://www.twinkl.co.uk/offer
Use code: UKTWINKLHELPS
Cbeebies - LOTS of fun learning games here for children to have with familiar characters!
https://www.bbc.co.uk/cbeebies/games